Bush Bounce is a night of exciting new work by artists of all mediums at Bush Theatre, London - in association with IdeasTap.
It showcases performances, film, photography, costume, dance - any art goes - that are in various stages of development by emerging, brand new and established artists. We put the brief out on IdeasTap and after a forehead-sweaty few days of judging, these are our winners and the artists that you will be lucky enough to experience on the 17th May - FOR FREE (get TICKETS here) - at Bush Theatre:
AISHA MIRZA (Woman! Know Your Place : Mixed Art)
Aisha is part of the Woman! Know Your Place collective that aim to help people recognise the expectations placed on women that are now taken as normal, and creatively challenge them"
Woman! Know Your Place will start life as a website where women will be invited to send in visual, audio or written responses to a particular provocation. The collated work will be shown at the night and Bush Bounce attendees will be invited to get involved.
ANNE CHMELEWSKY (Through The Looking Screen : Opera)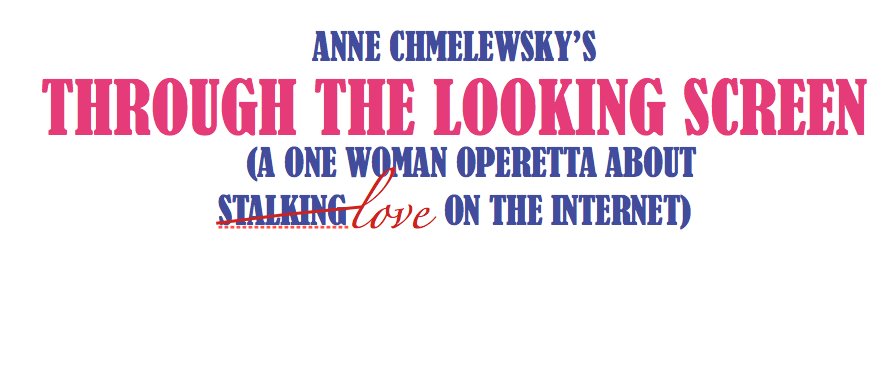 Anne is a French composer, specialising in TV and film music. Anne turned the hit series 'The Office' into an opera to raise money for Comic Relief. Subsequently, Anne and the cast were featured in Ricky Gervais and Stephen Merchant's fundraising sketch on BBC1.
Through the Looking Screen is a one woman operetta about internet 'love', which will be on at the Underbelly during Edinburgh Festival 2012. Catch it at Bush Bounce first and see what the Huffington Post called 'witty...comic...sublime'.
CHLOE MASSEY (Holiday : Documentary Theatre)
Chloe trained as an actor at LAMDA. Soon after graduating in 2010, she set up Darkbloom Theatre, a company which has so far focused on new writing (with an emphasis on the work of emerging female artists). As a writer, her credits include Scented (Darkbloom Theatre, Frameless Gallery), Day Tripper (Made from Scratch Theatre Company, Cockpit Theatre), and External: A Performance (Darkbloom Theatre, The Gallery in Redchurch Street).
Holiday dramatises verbatim accounts regarding female genital mutilation (FGM) and Chloe will be working further with charities and organisations to raise awareness and provoke discussion of FGM.
HASEEB MALIK (Babar the Elephant in the Room : Monologue)
Haseeb graduated as an Actor in 2010 and has since struggled to pay his rent. Most recently he appeared in London's West End with The Madness of George III and will be putting his lyrical poetry skills to the test in Twelfth Night this summer with Chester Performs. Babar the Elephant in the Room is his attempt at recounting and confronting the most intense & rewarding year of his life – from finding out he was going to be a father to witnessing the birth and beyond. Exploring the difficulties of balancing religion, family and fear with responsibility and love.
HOLLIE MCNISH (A British Tea Break : Poetry)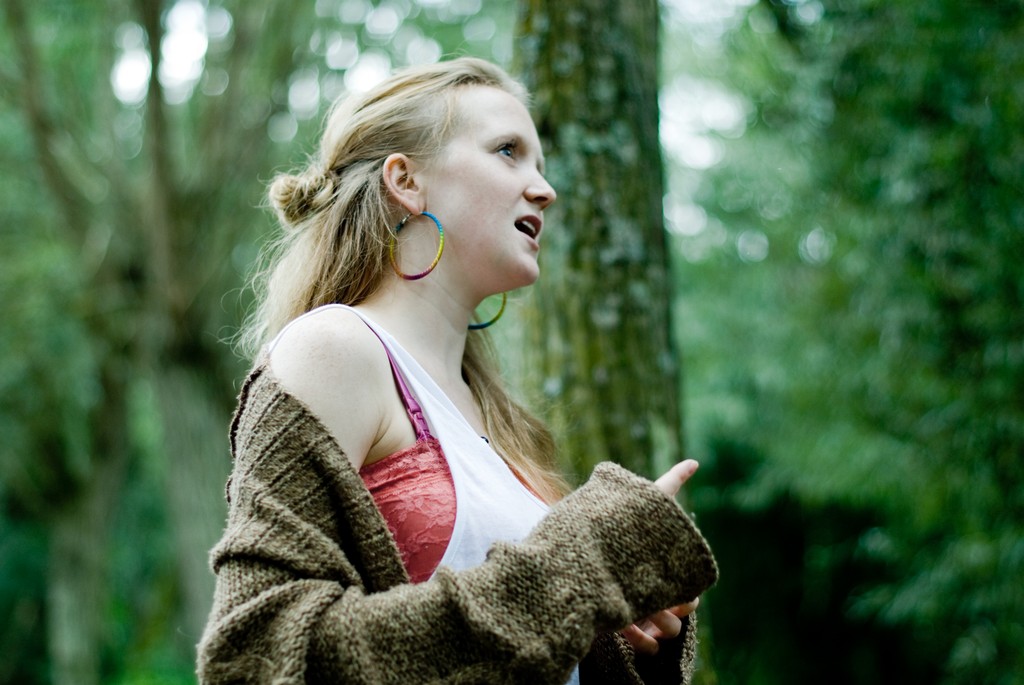 Image by Andrea Seigl
Hollie McNish is a UK poet. She has released two poetry albums, Touch and Push Kick, both to critical acclaim with the latter prized for contributions to maternal research by the University of London. She has appeared in venues as diverse as Glastonbury festival, Ronnie Scotts Jazz Bar, London's Southbank Centre and Cambridge University. She has been featured on Radio 4's Poetry Diaries, Women's Hour and BBC 2 and has recently completed a tour of Sydney in October 2011 with the Australian National Poetry Slam: Word Travels. Her first collection, Papers, is out this year, published by Greenwich Exchange, London.
With A British Tea Break, Hollie will invite Bush Bounce audiences to enjoy a traditional tea whilst experiencing an intimate spoken word show which explores themes of Britishness, immigration, women and workers rights.
KATHERINE PEARCE (Round 'Ere : Poetry Theatre)

Following her first performance of 'Round 'ere' in 2010, Katherine was awarded a writers bursary by Paul Abbott (Shameless, State of Play, Hit & Miss). She has since written pieces for the RWCMD graduate showcase at the Royal Court in 2011 and 2012; where she performed her own monologue. She is also an associate artist of Not Too Tame Theatre Co. A company forged from a core of working class creatives. She is currently in her final year at the Royal Welsh College of Music and Drama studying Acting.
'A screwed up crackwhore cabaret act soon turns into an emotional exploration of being a north-western girl, slap bang in the middle of a binge-living culture plagued with the politics of 'Cameron's Coalition'. Hardcore and poetical, this is a Northern bird we ain't seen before. The bard of Warringtonia.'
LESLEY ASARE (I Shape Beauty : Costume)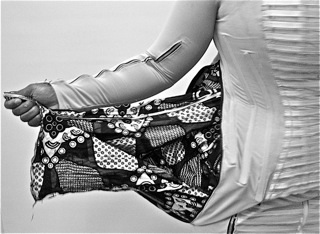 Lesley Asare is a London based Interdisciplinary Visual Artist.In 2010, she was awarded with the Harold Tillman Scholarship to study MA Costume Design for Performance at the London College of Fashion. This amazing opportunity allowed her to explore the relationship between the body, costume and space through the development of performance installations. Within each installation the transformation of the costume on the body communicated narratives within space. Her work allows her to collaborate with artists, performers and choreographers while also allowing her to use her own body to explore identity & sociopolitical issues.
This costume based performance explores the ways through which women add, subtract, lift, and mould themselves to satisfy the observers both within and outside of themselves. It questions what lies beneath the surface when each layer of skin of is peeled away.
RENEE DE NEVE (Die Revolution Sind Wir 'We Are the Revolution' : Photography)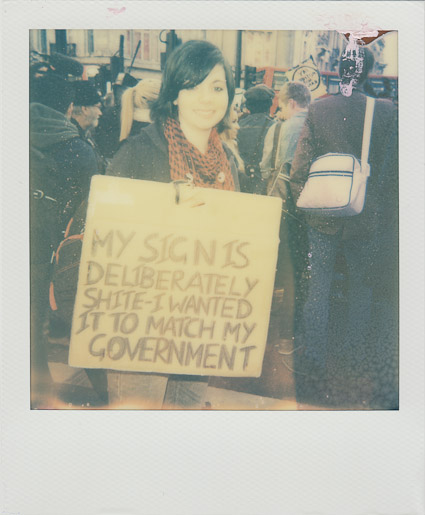 Renee is studying Photographic Arts at the University of Westminster, preparing for her third and final year. Her photography has been included on the Photographer's Gallery website, Photoworks and Create Magazine, amongst others. She hopes to work photographically for as long as possible and create her own photography related organisation.
Die Revolution Sind Wiris an on-going project aimed at documenting individual signs created by people at demonstrations, highlighting powerful messages. Through collective masses, the perception of the individual's reason to protest is sometimes overshadowed by media coverage and/or the overall purpose of an organised demonstration. It is through these signs that Renee hopes you will receive a sense of the individual's political belonging or identity. Using the polaroid format I am seeking to replicate the uniqueness and fragility of these signs and present them as 'objects'.
TOM ROSS WILLIAMS / POPULACE THEATRE (Swan Love : Dance Theatre)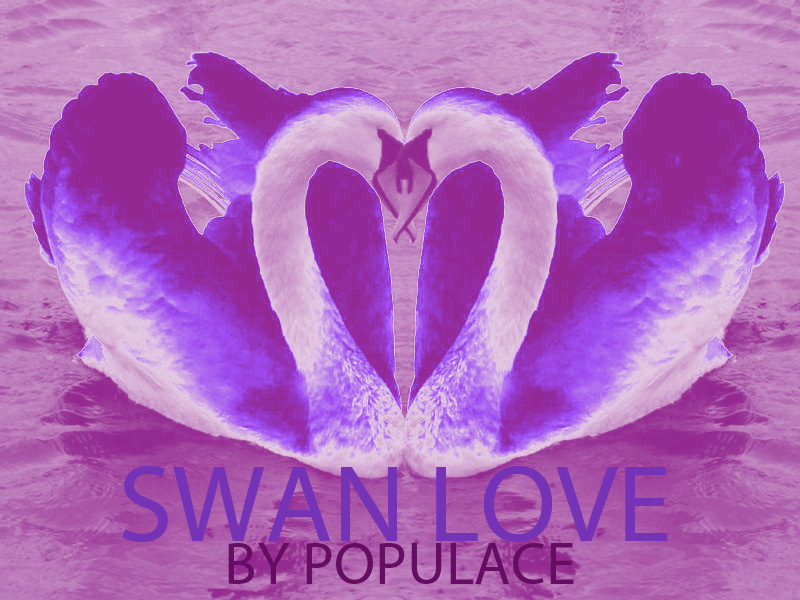 Populace was founded by actors Tom Ross-Williams and Jessica Barker-Wren in response to the arrests of anti-cuts protestors on 26th March 2011. Populace aims to re-invigorate political theatre with a sense of vibrancy, inclusivity and most importantly, optimism. Politics isn't just for politicians and protest isn't just for the streets. Populace provides a platform for silenced voices and casts our audience as the protagonist. On the 29th of February 2012 St Petersburg passed their gay propaganda law banning the "promotion" of homosexuality and as it looks increasingly likely to be implemented nationwide, it's high time to speak out.
So...if you needed anymore reasons to come then we will also have SPECIAL GUESTS:
POINT BLANK POETS - winners of the UK Young Artists International Award 2011 - performing spoken word wonders (Dean Atta / Bridget Minamore / Hollie McNish / Sabrina Mahfouz / Chimene Suleyman / Deanna Rodger)
SAMEER PATEL - BAFTA/Festival Republic competition-winning director screening his short film
MUSIC ACTS TBC